Cat's Corner Classes and Dance Party are on hold due to the the pandemic, but we are working hard to bring them back by May or June 2022!
Stay tuned and thank you in advance for your patience and support!
Our Story
They say a Cat has nine lives and that certainly applies to Cat's Corner, which has enjoyed several incarnations since its inception in 2001.
Founded by Catrine "Cat" Ljunggren, Joel Tornatore and Elliott Donnelly, the vision of Cat's Corner was to provide a place to dance "the real stuff" (referring in particular dancing the lindy hop with an appreciation for its Harlem roots) in a venue with "ambiance". A key ingredient to that vision was the ability to "enjoy a nice glass of wine" between dances. A key inspiration for the party was Catrine's nostalgic experiences at the swanky Highball Lounge, one of San Francisco's historic live music venues.
2001-2003
A small start at El Valenciano
Legendary Rhythm Hot Shots dancer Catrine Ljunggren founded the swing dance party at this small Mission District bar along with Joel Tornatore (DJ AppleMacDaddy) and her dance partner Elliott Donnelly.
The party featured a weekly drop-in swing dance class and DJed dance party. Some of the Bay Areas finest swing dancers would frequently arrive only after the stroke of midnight and dance 'til they dropped and the bar closed at 2am!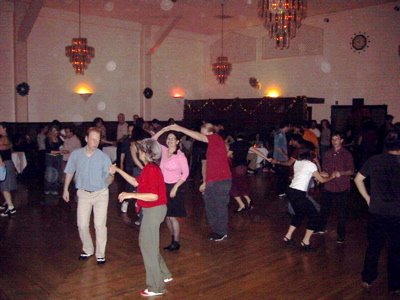 2004
All Star Cat's Corner at Club Verdi
The party re-opened at the elegant Verdi Club, and brought on two new dance teachers – world champion Lindy Hoppers Kevin St. Laurent and Carla Heiney. The high-caliber dance classes offered inspired a whole generation of social, competitive and performance dancers.
DJ AppleMacDaddy continued to spin music most nights, with occasional bands and special events throw into the mix.
2006-2013
Our longest run at Savanna Jazz Club
Cat's Corner really found its legs starting in 2006, when Catrine teamed up with Nathan Dias to restart at Savanna Jazz Club. The small night club, with its long bar, black leather booths, small stage, and music themed decor created the perfect backdrop for the party to explode.
The party started out with only one 30 minute swing dance class, weekly DJs and a band once a month…but quickly evolved to offer multiple levels of Lindy Hop classes as well as what became synonymous with Cat's Corner: weekly live music with a rotating line-up of the best SF swing bands!
When Catrine moved away from SF in 2010, Nathan continued to host the party, recruiting a new dance partner, champion swing dancer Alyssa Glanville.
2014-2017
Balançoire Swings!
Shortly after Savanna Jazz Club shut its doors, Cat's Corner was closed barely a month before finding a new home just down the street at a newly remodeled Balançoire. The venue retained much of the party's small bar charm, but also offered a second upstairs dance floor that enabled multiple simultaneous classes and advanced class offerings.
The line-up of bands playing regularly continued to grow, and monthly dress-up costumed theme parties became a mainstay of the event that contributed to Cat's Corner eclectic character.
2018-2019
Larger than Life at Swedish American Hall
One of our proudest moments was when Cat's Corner took on new life at the historic Swedish American Hall.
2020 and beyond
A fresh start at the Valencia Room
Cat's Corner got back to its small bar roots with a promising reopening at the Valencia Room (formerly the Elbo Room).