Swing & Lindy Hop Dance Classes in San Francisco
Learn to swing dance and Lindy Hop at Cat's Corner! Have fun, meet new people, and get great exercise all at once! Cat's Corner offers:
hip, expert & friendly dance instruction with Nathan, Alyssa and guest teachers
progressive format classes
intimate class sizes
no partner needed and beginners welcome
Live Music Dance Party, Full Bar, and Restaurant after class!
Class costs include weekly dance party admission (a $[party_value] value). Stay and dance to LIVE MUSIC every Wednesday!
Next monthly class session starts Wednesday, [first_wednesday].
Series class sizes are limited to 24 paid students and often sell out. A few extra spots are also made available to our staff volunteers.
Class Costs
Beginning Swing 30-minute Drop-in Class (9pm)
$10 per week. Cost includes dance party admission.
4-week Monthly Series Classes (7pm & 8pm)
$[class_price price="early"] early registration online by Monday, [monday_before].
$[class_price price="full"] full price online / $[class_price price="door"] at the door.
Series Class Drop-in (7 & 8pm)
$20/week drop-in with teacher permission and space available. First-come, first-served at the door.
All class costs includes the 9pm Beginning Swing drop-in class and dance party admission.
Multiple Series Class Discount:
$10 off ($5 off per class) the early registration cost when you enroll in two classes in the same month. You must meet the requirements for the higher level class to take both. Discount is automatically applied at checkout.
(Can't make Wednesdays? Check out Monday Classes in the Mission!)
---
Progressive vs. Drop-in Classes
All of the Lindy Hop classes are progressive, with each week's material building on the previous week's class. Lindy Hop drop-ins are allowed for $20 which also includes dance party and 9pm lesson admission. Please note that if you drop in to one of the classes, it may be in the middle of the class series, and you may fall behind. We recommend that you take the full series. We always offer a drop-in Beginning Swing class each Wednesday from9-9:30pm.
Not sure which class is for you? Send us an email with any questions!
After the Classes
All class costs include admission to the Cat's Corner Swing Dance Party. Stay to dance to live swing music starting at 9:30pm. Savanna Jazz Club features a full bar, dining until 10:30pm, a slick dance floor, and great swinging ambiance. We often have surprises around 10:30pm — it could be a special performance, contest, or silly group activity — to add to the festivities.
Guest and Past Instructors
Nathan Dias
Resident Teacher, Cats Corner Founder
Nathan specializes in Lindy Hop, the high-energy swing dance from the 1930s and 40s, and has been teaching, performing and DJing since 2005. He started swing dancing in 1997 and lindy hopping in 2000. A regular dancer in San Francisco since 2001, Nathan enjoys the creativity and personal connection of social dancing as well as the challenge and satisfaction on working on and improving his dance.
He has taught at practically all of the local swing dance venues at one time or another, including the 9:20 Special, Lindy in the Park, Tuesday Night Jump, Rent Party and original Doghouse, and has been a featured instructor at regional workshops such as Swingin' at the Savoy, California Swingin', *Workshop (San Luis Obispo), Santa Swing (Santa Barbara), and Le Hot Sauce (SF).
nathan@catscornersf.com
Catrine Ljunggren
Cats Corner Founder, Resident Teacher 2006-2010
Catrine Ljunggren is a dancer, teacher, performer & swing organizer specializing in dances of the Swing Era as well as Argentine Tango. Catrine teaches at dance camps and workshops all around the world.
Catrine is one of the original members of the legendary Rhythm Hot Shots and one of the founders of Herrang Dance Camp, the world's largest dance camp which has been in existence since 1982. Catrine and her dance company are one of the main groups responsible for the resurgence of Lindy Hop today.
Catrine learned from Al Minns and Frankie Manning, both members of Whitey's Lindy Hoppers in the 1930's. Catrine is known for her energy — she likes to dance fast and fly high and it is a joy to watch her dancing as she is an excellent performer and dancer. In her dance partner Elliott Donnelley she has found someone willing to attempt to keep up with her, and they are a joy to watch because they really have fun when they dance.
Alyssa Glanville
Resident Teacher 2013-present
Alyssa Glanville is an award-winning West Coast Swing competitor and international dance teacher, but a lesser known fact is that she got her start dancing Lindy Hop, and still loves to cut a rug on the social dance floor! Her dancing blends technical prowess with an intricately playful sense of musicality and style. In between globe trotting and teaching with her main West Coast Swing dance partner John Kirkconnell, Alyssa has taken opportunities to train and perform with Nathan, including acrobatic Lindy Hop and Charleston showcases at the Richmond Homefront Festival.
More Past Teachers
Amanda Marchand
Amanda Marchand has been swing dancing since 1993, officially started calling it Lindy Hop in 1997 in Santa Barbara, and has been traveling to dance events all over the country and world, teaching dance, and just dancing at every opportunity since then! Although primarily a social dancer for most of her dance career, Amanda has also competed at the national level, taking 3rd place in 2012 and 2nd place in 2013 in the Advanced Jack & Jill at Camp Hollywood. She has also won or placed many times at smaller regional events across California in Lindy Hop, Balboa, and West Coast Swing. Amanda is also the new creative director for the Sweet 16, a vintage chorus girl group performing team solo jazz choreography at events around the Bay Area. Amanda loves swing and jazz dancing with a passion, and loves to pass that passion on to others!
Ann Mony
Ann Mony strives to make every dance a unique and memorable one. Known for her playful style and the joy that she exudes while dancing, she travels as often as she can to share her love of lindy hop through classes, competitions, performances, and social dances. She is committed to preserving the improvisational link between lindy hop and jazz, empowering followers, and celebrating the cultural wealth of vernacular jazz dances.
Ann fell madly in love with swing dancing in 2002. Over the next few years in Montreal she honed her skills as a dancer, competitor, and teacher. She holds titles from such events as the International Lindy Hop Championships, American Lindy Hop Championships, Canadian Lindy Hop Championships, Camp Jitterbug, and Lindy Focus. Through her classes and performances she hopes to add to the legacy of unique and powerful dancers in lindy hop.
Ann is also an active organizer and scene-builder in San Francisco. She is the education coordinator at the9:20 Special, an organizer for Fog City Stomp and The Bootleggers Ball, and a member of a feisty dance troupe called Fancy Pants.
Autumn LaVarta
Autumn LaVarta has been teaching Swing, Lindy Hop, Salsa, Tango and more in San Francisco for many years now.  He was responsible for the Friday Night Swing dance party which ran for several years at the Metronome Ballroom/Cheryl Burke Dance Studio. More recently, he has been the resident Lindy Hop instructor along with Hep Jen a the Tuesday Night dance party. Autumn is also a fantastic DJ, and you'll often find him in the Cat's Corner DJ booth at the end of the month!
Brian Zimmer
Brian Zimmer  has taught at various locations throughout the Bay, including UC Berkeley, Pixar, and Google. He is sort of OCD about understanding the mechanics of dance, and brings this to his teaching through imparting solid technique grounded in understanding momentum (he credits most of this to Jean and Bromley training him as a member of the Frequent Flyers). He also believes that any class that you're not having fun in is probably not worth your time.
In the "real world", Brian is currently a (you guessed it) software engineer in Silicon Valley. When he isn't working or swinging, he dabbles in tap dancing, hip hop, and photography; reads sci-fi and philosophy; attempts to gain more culinary prowess; and utillizes his Netflix account to the greatest extent possible.
Calle Johansson
Both Catrine and Calle (pronounced "call-ay") learned to dance lindy hop around the same time in Sweden from original swing dance legends Frankie Manning and Al Minns. The two Swedes were instrumental in jump-starting the current revival of Lindy Hop through their involvement in the Rhythm Hot Shots and Shout And Feel It performance groups and the Herrang Dance Camp.
Over the years, Catrine & Calle have taught and performed alongside each other at dance camps worldwide, including most recently: Masters of Lindy Hop & Tap (Seattle) & the Lindy Hop Argentina International Festival. They are excited to bring their unique Swedish style of Lindy Hop -- which is really Frankie and Al's style -- to you at Cat's Corner...expect zany, flashy, bouncing-off-the-wall fun and a swingin' good time.
Besides the dancing, Calle is a one-of-a-kind person and showman, known, internationally for his Elvis impersonations, humor, and charming way with the ladies.
Charlie Stellar
Charlie has been a dancer and musician her entire life, initially starting with solo performance dance as a member of modern and contemporary troupes as well as hip hop, she discovered her love of partner dance coincidentally on the day she met David. Since then they have been building their partnership with his social dance background and her trained dancer background to create something much stronger.
Both nomads, they now travel the world offering their knowledge to students and focus on the parts of dance they love: connection, musicality and momentum.
Christine Nguyen
As a child, Christine really wanted to take dance lessons, but her mother said they were too expensive. So, when Christine moved out of the house she signed up for ballroom dance classes at community college. She was bitten by the Lindy bug three years ago and spent 2009 traveling and competing at swing camps and competitions all over the US, including Camp Hollywood, Camp Jitterbug, and the International Lindy Hop Championships. Christine has taught at Friday Night Swing and City College of San Francisco, and has hammed it up performing with The Hot Bloods and 101 Junction. Her favorite part of teaching is witnessing the "a-ha!" moments — those little breakthroughs that students have along their (hopefully) lifelong swing dance journey.
Dave Ljung Madison Stellar
Dave Ljung Madison Stellar is an internationally respected Blues and Lindy Hop teacher who is an expert in cutting to the chase and conveying strong fundamentals, and is joined by his teaching partner-in-crime and exquisite social dancer Charlie. David was a part of the origins of the contemporary Blues Dance scene, and teaches classes based on the beginning and advanced fundamentals that will make your blues come alive. Together, they travel around the world bringing the joy of Blues Dancing and Lindy Hop to scenes everywhere they go!
Dave Ljung Madison & Charlie Stellar
David Ljung Madison is an internationally respected Blues and Lindy Hop teacher who is an expert in cutting to the chase and conveying strong fundamentals. He's joined by his teaching partner-in-crime and exquisite social dancer Charlie. Charlie and David met at a partner dance and the connection was instantaneous. Charlie has been a dancer and musician her entire life, initially starting with solo performance dance as a member of modern and contemporary troupes as well as hip hop. She discovered her love of partner dance coincidentally on the day she met David. Since then they have been building their partnership with his social dance background and her trained dancer background to create something much stronger.
David has been dancing Lindy and Blues for close to two decades and was one of the people responsible for the creation of the contemporary Blues Dance scene. He has been teaching Lindy and Blues workshops in dozens of countries across the world and teaches classes based on the beginning and advanced fundamentals that will make your dance come alive. Together, David & Charlie travel around the world bringing the joy of Blues Dancing and Lindy Hop to scenes everywhere they go, sharing their knowledge and focusing on the parts of dance they love: connection, musicality and momentum.
Hep Jen Holland
Hep Jen has been teaching Lindy Hop full-time since 1997. Originally from Seattle, she moved to San Francisco in 2004 and quickly established herself in the Bay Area's Lindy Hop scene. Besides teaching Lindy Hop at The Verdi Club, Hep Jen also teaches regularly at Lindy in the Park. Hep Jen is also well-known as a swing DJ and Lindy Hop performer, recently appearing in Kim Nalley's original musical play "Ella: The American Dream".
Jean & Bromley Palamountain
Jean Ma and Bromley Palamountain first teamed up in August of 2004. Jean taught performance swing dancing to UC Berkeley students as part of "The [M]ovement". She is also well-versed in hip hop, having danced in the professional hip hop troupe Culture Shock.
Bromley's expertise lies in his gymnastics foundation. He trained under Olympic Gold medalist Tim Daggett and was able to pave his way through college as a competitive gymnast for UC Berkeley's men's gymnastics team.
Together they are known for their explosive aerials, high energy, and passion for the dance. Jean and Bromley love to showcase their talents in competitions, jam circles, and on the social dance floor. They would even practice their technique within the corridors of the BART stations if the security guards would let them. Jean and Bromley ardently spread the coolness of Lindy Hop wherever they go, enjoying teaching and the many friends they have met within the dance community.
Recent Awards:
1st place Reno Dance Sensation Strictly Lindy division
1st place S.F. Balfest Strictly Lindy contest (Qualifying for ALHC 2007)
2nd place U.S Open Lindy Showcase division
3rd place Rhythmic Arts Festival Lindy division
For more about Jean and Bromley visit: www.JeanandBromley.com.
James Pack
James Pack started dancing lindy hop at the University of Delaware in 2010, where he has since fostered what is easily one of the strongest college swing dancing scenes on the East Coast. When teaching, James strives to make his class experience one that includes both entertainment and learning, and is known for infecting students with his enthusiasm.
As a social dancer, James pays close attention to his partner and focuses on creating an enjoyableexperience for both dancers. He often opts for rhythmic games and replication of simple movements to create a conversation with his partner.
Jeff Clark
Jeff Clark has been involved with the swing dance scene for a bit over a decade, starting first with Lindy Hop and then focusing on Balboa for the past 7 years. He's in love with the precision and simplicity of the dance. He and his wife, Coleen, formed Bal Club in the south bay  with International Balboa teachers Randy and Kara as instructors as a way to support and grow the Balboa community. Jeff now teaches Balboa throughout the Bay Area and enjoys sharing his love of Balboa with the greater community.
Jennifer Leong
Jennifer has trained in various forms of dance since her teens, and started swing dancing in the early 1990's.  She was one of the founding members of the Northern California Lindy Society, and has worked with local teachers, as well as visiting instructors, such as Frankie Manning and Chester Whitmore. Jennifer taught weekly classes at the Doghouse for many years, and has also taught at several local workshops. She has performed throughout the Bay Area, and at Swing Camp Catalina.  In the last few years, Jennifer has stopped teaching on a regular basis to pursue other passions but still enjoys imparting the joys of swing dancing whenever the opportunity arises.
Ken Watanabe
Ken is the co-founder and regular teacher & DJ at Lindy in the Park in SF. Ken began swing dancing in 1987, and has been teaching Lindy Hop in the San Francisco Bay Area since 1998, including classes at the Allegro Ballroom in Emeryville, the Metronome Ballroom in San Francisco, as well as numerous workshops, including the 2000 Frankie Manning Millennium Birthday Bash in Tokyo, the 2001 Lindy U. swing dance camp in Chicago, the 2003 Japan Lindy Exchange, and the annual NCLS Frankie Manning workshops in San Francisco.
His greatest claim to fame, however, may be as the (one-time) swing dance instructor to Xena, the Warrior Princess (Lucy Lawless).
Mara Jennings
Mara, who originally hails from Florida, has been swing dancing in the SF Bay Area for many years now. A familiar face on the social dance floor at Cat's Corner, she has also performed and taught workshop classes with the Motion Explosion Dance Company, and performed and taught with Nathan many times in the past. Her background in aero/astro-engineering and experience as a flight instructor might partly explain her love of incorporating high-flying aerials and dance acrobatics into her Lindy Hop!
Michael Terkowski
Michael has been dancing swing since 2000 and teaching Swing since 2008 at venues such as Cat's Corner, ODC, and 9:20 Special. He directed the Lindy Hop group Motion Explosion. Michael studied Cuban salsa in Cuba and learned about the connection between Swing and Cuban dancing.
Mirjam Johansson
Mirjam is a fabulous, award-winning swing dancer and Lindy Hopper who comes all the way from Sweden! She first met and danced with Nathan while visiting San Francisco in late 2011, and they danced a whole lot more the following summer while they both attended the 2012 Herrang Dance Camp. Mirjam's biggest passion is the happiness in social dancing and the follower's ability to express themself to the music together with the great feeling of dancing together with the leader. This is her focus both as a teacher and as a dancer. A rising swing dance star in Sweden, Mirjam has been teaching Lindy Hop in Stockholm over the past year as well as collecting awards at recent European and International dance competitions, including:
ILHC 2012 - Finalist Jack & Jill Open Division
ESDC 2012 - 1st Place Lindy Hop Open Division
ESDC 2011 -1st Place Lindy Hop Jack & Jill Open Division
Snowball 2011 - 5th Place Strictly Lindy
Niloufar Talebi
Niloufar Talebi taught Lindy Hop and Swing at the Metronome Ballroom in San Francisco for many years. In addition to being a fabulous Lindy Hop social dancer, she is also writer, award-winning translator, and media and theater artist, and she brings a graceful, free-spirited sensibility to everything she pursues. This March, we bring her out of teaching retirement to share her unique perspective on Lindy Hop with our students at Cat's Corner!
Olivia Taylor
Hailing from her hometown of Vancouver, WA where she raised a pet cow as a child and went to a school where she got sent to the principal's office for wearing shorts on the wrong day, Olivia now lives in the big city and lives her dreams. When she was just 17, Olivia was peer pressured into going to Swing Club at her school. Little did she know that it would alter her life forever. In 2008 she moved to Seattle to pursue lindy hop and she has never looked back. She has since performed, competed, choreographed and taught. Olivia now lives in San Francisco and is pumped to keep sharing her lindy hop wisdom.
Ryan Calloway
Ryan Calloway shines on the dance floor. His enthusiasm, bouyant rhythm and boundless creativity make him one of San Francisco's best known Lindy Hop leads. Most nights you'll find him pounding the floor at one of the city's local jazz and swing clubs.
Ryan's goal as a teacher is to inspire his students to find their own creativity. With an open and warm style, he welcomes individuals to not only learn the traditions of Vintage Jazz Dance, but to add to it as well. He makes his living as a Visual Artist for ILM, and you might have caught some of his animation on the silver screen. It's this type of artistry that is so apparent in his dancing. It's not just his technique that shines, it's his attention to the aesthetic quality as well.
Lindy Hop has taken Ryan Calloway around the world, having taught in Spain, Singapore and throughout the US. But you'll only need to look as far as his smile to see how much he truly loves the dance.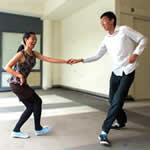 Samantha Nguyen & Calvin Lu
Sam and Calvin fell in love with swing dancing at UC Berkeley's Lindy on Sproul and SwingCal, both becoming active members of the swing community by teaching, mentoring, and DJing. Raised in Cal's ambidancetrous community, you'll often find them both leading and following on the social dance floor. Their dancing focuses on playful partnership and lighthearted silliness. Coming from performances with the Sproul Stompers and recent competition experience, Sam and Calvin are excited to share their enthusiasm at Cat's Corner!
Check out their moves in the 2016 Swingin' at the Savoy History of Lindy Hop Strictly Competition.
Shannon Lea Watkins
A spirited dancer, Shannon Lea seeks joyful conversation in every dance. Whether at the end of a swingout or throwing down in a solo jam, she strives for rhythm and creativity on the dance floor. As a teacher, her goal is to inspire students to find their own voice in jazz dance and music.
Shannon Lea's Lindy Hop addiction developed in Indiana in 2010, matured in the Midwest, and has taken her around the country social dancing, teaching, and brimming with happiness. She is a new(ish) arrival in San Francisco, and in addition to teaching at several Bay Area dance venues, is a member of the solo jazz troupe Fancy Pants.
Rebecca Shannon
Rebecca is known for her friendly, fun-filled classes and her love of all things swing. Knowledgeable in Lindy Hop, Charleston, Balboa, Blues and Collegiate Shag, she has taught, performed and competed throughout the Bay Area and beyond and is currently the teaching partner of David Blood at San Francisco City College. She also performs with and does choreography for the City College performance troupe the Hot Bloods.
Rose Connally
Rose has been dancing for over ten years, beginning with ballet and then eventually adding on modern dance, jazz, swing and blues, feeding her constant hunger for more dance. She has been performing for most of her life and enjoys dance as both a form of expression and a form of entertainment. She has been swing dancing since 2005, tearing up the floors at the Madonna Inn in San Luis Obispo, then Midtown Stomp in Sacramento, and now she dances wherever she can, whenever she can, in the San Francisco area. When she is not dancing, Rose is also an artist, specializing in pencil portraits.
Ruth Hoffman
Ruth skipped into her first dance class more than 25 years ago, and has since been training in as many dance styles as she can get her feet on. Dance takes her all over the world, from judging blues competitions at North Star Blues to a recent Argentine Tango teaching residency in Indonesia.
When not traveling, Ruth resides in San Francisco, where she teaches workshops, classes and private lessons and finds time to run her weekly blues dance venue, Shades of Blues. Passionate about teaching and with over 14 years of experience, she brings a balance of technical precision and silly fun.
Yon Richner
Yon loves to social dance and feels fortunate to be able teach around the Bay Area. Her teaching experience includes City College of SF, Swing Central, Wednesday Night Hop, Cat's Corner and the 920 Special.
2009 was a big dance year for Yon. She won 1st place at Camp Hollywood's Amateur Jack &Jill and 1st place at Boogie By the Bay's Jack & Jill. Yon is grateful to Lindy Hop for giving her the opportunity to connect with many, many, many wonderful people from all over the world.